Last Updated: 21 October 2021

21 October 2021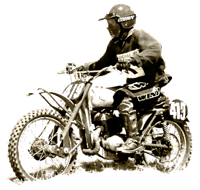 The Pre-65 Motocross Club specialises in running and organising classic motorcycle scrambles in the East of England. Check out our race calendar for dates and if you are interested in becoming a member of the Pre-65 Motocross Club, then please head to the membership page for more information.
The Pre65 Motorcross Club are pleased to welcome spectators to our meetings. There is a £5 charge, on the gate, which will include a programme. Please park in the designated Spectator parking areas.
Last Updated: 21 October 2021

21 October 2021
A decision has been made by the Pre65 Club committe that in future all dogs are to be kept on leads when attending Pre65 Scrambles and/or any other event whereby the Pre65 Motorcross Club are in attendance. Any questions please raise with any Committee Member, or Roy Crisp our Chairman, at furture meetings.
Last Updated: 29 July 2021

29 July 2021
The Pre65 Club Committee have very reluctantly had to take the desision to cancel the scramble on 31st October.
Urgent track repair is needed and this has to be done before winter sets in to allow nature to lend a helping hand. We have not been allowed on the site for some weeks while numerous trenches were dug prior to the A12 widening scheme going ahead. Some restoration of the track surface has been completed by the company responsible but it will take weeks before we can tell how successful that has been. However, the whole track surface is in need of further work to mitigate the wear and tear which has made it extreamly bumpy in places and was responsible for the 'dust storm' at the meeting on 30th May.
We will post more news when available.
Last Updated: 25 April 2019

25 April 2019
To comply with the AMCA rulebook every rider must have a 2kg fire extinguisher in their vehicle.
AMCA stewards will be performing random checks throughout the year so please ensure you have an extinguisher at every meeting. Also consider displaying it in a prominent position to help the stewards and make it easy to find in an emergancy.
Last Updated: 04 May 2021

04 May 2021
Please ensure you have the correct number plate colour and race number colour on your bike for every meeting. These will be checked during technical inspection.
The colours are:
Pre 60 bikes - white background with black numbers
Pre 65 bikes -

black background with white numbers
Pre 68 bikes -

blue background with white numbers

Pre 74 bikes - red background with white numbers
This is as per the AMCA rule book.
Last Updated: 28 November 2019

28 November 2019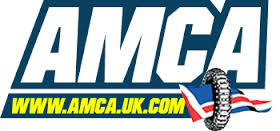 In order to reduce the administrative burden on the AMCA of sorting those that have a current membership and those that do not, you will need to first apply for Club membership. Once you have received your membership receipt, you should then apply for your AMCA licence.