Published: 03 February 2017

03 February 2017

Last Updated: 24 August 2019

24 August 2019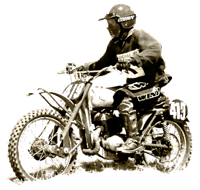 The Pre-65 Motocross Club specialises in running and organising classic motorcycle scrambles in the East of England. Check out our race calendar for dates and if you are interested in becoming a member of the Pre-65 Motocross Club, then please head to the membership page for more information.
An alternative way to get involved with Pre-65 Motocross is to come and marshall at one of our events, anyone over the age of 18 is able to help out (due to insurance requirements). Marshalls will be fully trained before each meeting and will receive a safety briefing from our Chief Marshall at the beginning of the day. Marshalls are also give a contribution towards their expenses as well as a lunch voucher. For other ways of getting involved, please see the membership page.
For more details, please contact us and we will be more than happy to answer any questions that you may have.
Race meetings aim to get the first race underway at 10:30am.

Spectators Welcome at Race Events - Entry £5 at the gate.
Published: 14 October 2019

14 October 2019

Last Updated: 14 October 2019

14 October 2019
by Callum Wallis
Bit of an iffy start to the day due to crap weather and more rain forecast made for an iffy atmosphere and track conditions. There were a few notable absences which was probably due to the weather not looking good and the way the weather has been all week. The track was muddy and slippery in various places which made for a less than promising practice for most riders as riders either slid off or struggled getting up the hills on the track.
The workers race for people who helped set the track up during the week in the absolute appalling conditions was won by Matt McCulloch on his CZ 2 stroke.
The second race was the sidecars, which helped with making the track conditions better for the solo riders. In the 4 sidecar races Steve Lewis and Graham Eastall had 2 wins each and were both riding Yamaha twins in the Wasp sidecar frames.
The first solo race class was the more 2 stroke based pre74 class. The class was dominated by Sam Oliver on his 1973 380cc CZ who rode very fast and lairy all day. Ross Worner also rode well in the pre74 class on his 1973 380cc CZ coming second and third but unfortunately had to pull out the last pre74 race. Sam Heitman was another rider that rode very well in the pre74 class on a 1973 380cc CZ. However in the last race it was Peter Brinsden who was leading very fast on his 1971 BSA B50 MX (which would've pleased my dad, had he not already left), unfortunately he didn't come round on all his laps which lead Sam Oliver to take the win.
The Clubman class despite it being the non-race class produced some of the closest races of the day with Carl Simpson winning the first race on his 1971 250cc Bultaco, Carl also got 3rd and 2nd in the other two clubman races after being beaten by Tony Livings on his 1973 380cc CZ. Barry Fitzmaurice was as usual in thick of the action near the front on his Bultaco.
The Pre65 race was dominated by recently crowned Pre65 champion Gene Womack who dominated spectacularly on his 750cc methanol burning Triumph Metisse. William Holland finished behind him in second place in the pre65 class on his Matchless Metisse.
Gene Womack also got two first places and second place in the Pre68 class, which meant it was twice he had to go from winning the Pre65 race straight into Pre68 race which was the next race. He got second place in the second race to Nick Archer who rode a 475cc BSA Victor. This would not be the last time that Womack and Archer would have to battle for the lead. Paul Crudgington on a BSA and Matt McCulloch on his 360cc sidepipe CZ also rode well in the Pre68 class.
The Greeves racing class involved Ray Wood winning the 1st and 3rd race in his 1966 250cc Challenger but after not completing his second race that meant a win for David Akehurst on his 1967 250cc Challenger, who finished second to Ray in the 1st and 3rd race.
The Pre60 race produced some interesting racing for 1st and 2nd between Alex Turner on his 1959 500cc MaBSA and Jason Sigouraney on his 1960 250cc BSA C15. Alex won the 1st and 3rd pre60 races with Jason in second but Jason won the second race with Alex Turner in second place.
The first age related race is the Up to 51 years old race. This was similar to the pre74 races as Sam Oliver and Ross Worner got 1st and 2nd on their CZ's. David Ludlow got 3rd on his 1972 400cc Husqvarna.
The second age related race is the 52-59 years old, was gonna be battle with Gene Womack and Nick Archer and that's how it started off but Gene came off and ended up dropping a number of places but it was Peter Brinsden who ended up winning after some fast riding on his B50 MX with Nick Archer second on his BSA Victor. Paul Crudgington got 3rd in this race, also on a BSA Victor.
The last age related race is the over 60 years old race, and this was dominated by Kevin Bownes who was riding the smallest engined bike at the meeting and he won this race very convincingly on his 1973 175cc Can Am.
The last allcomers race was the first 36 to the line and 6 laps which was won deservedly so by Gene Womack on his 500cc Jawa Metisse.
Published: 06 October 2019

06 October 2019

Last Updated: 06 October 2019

06 October 2019
This year we will be holding a trophy awards presentation evening for the Pre 60 and Pre 68 classes on 24th January 2020 at the Plough Motel, Bulphan on the A128. Guest of honour for the presentations will be Gordon Adsett.
After the buffet and awards there will be music for you to dance the night away. The venue is double tiered, so if you want to avoid the dancing you can sit up the top in the bar area. Accomodation is available.
Ticket prices will be £29.50 and are available from Terry Sewell .
Published: 15 April 2019

15 April 2019

Last Updated: 25 April 2019

25 April 2019
To comply with the AMCA rulebook every rider must have a 2kg fire extinguisher in their vehicle.
AMCA stewards will be performing random checks throughout the year so please ensure you have an extinguisher at every meeting. Also consider displaying it in a prominent position to help the stewards and make it easy to find in an emergancy.
Published: 23 November 2017

23 November 2017

Last Updated: 14 October 2019

14 October 2019
Please ensure you have the correct number plate colour and race number colour on your bike for every meeting. These will be checked during technical inspection.
The colours are:
Pre 60 bikes - white background with black numbers
Pre 65 bikes -

black background with white numbers
Pre 68 bikes -

blue background with white numbers

Pre74 bikes (1968-1973) - red background with white numbers
This is as per the AMCA rule book.
Published: 12 January 2017

12 January 2017

Last Updated: 14 January 2019

14 January 2019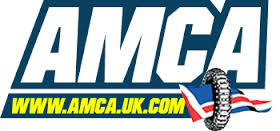 In order to reduce the administrative burden of sorting those that have a current membership and those that do not, it is to first apply for Club membership and having received your receipt to then apply for your licence.