Latest News
Details

Published: 21 January 2017

21 January 2017
Click Here: Jan 2017 Pre65 Magazine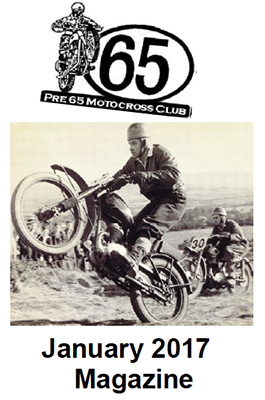 Details

Published: 17 January 2017

17 January 2017
The Pre 65 Motocross Club is in need of a volunteer/volunteers willing to act as Chief Marshal for each of our events this year.
No event can take place without a Chief Marshal.
Details

Published: 20 January 2017

20 January 2017
Thanks to you all and the generous top up from one of the landowners to make it a round £2000 for the Great Ormond Street Hospital, one of the world's leading children's hospitals.
Details

Published: 12 January 2017

12 January 2017
Last and final reminder regarding applying for your AMCA Classic Licence as despite numerous requests over the years, there are obviously those that cannot follow a simple request!
Details

Published: 21 December 2016

21 December 2016
We have recently been informed by the organiser of the ClassicMXRider.com Pre-68 over 350cc Championship that he is no longer able to continue in the role. This means we need a volunteer (or volunteers) prepared to take over the reigns for 2017 onwards. Would anyone prepared to do so please contact the Club Secretary, so that a handover can be arranged prior to the 2017 season starting.
Details

Published: 17 December 2016

17 December 2016
Dec 24 Update. Anyone ('fourstroke' & 'Allen507') who registered between 22nd Dec and 24th Dec, sorry but due to a glitch in the matrix you'll need to reregister again.
This website has been successfully moved to a new hosting server. Thank you for your patience while the new mobile friendly website has been built.
Previously registered members will need to reregister* to be able to post on the revamped forum and access the members only section. If you see any features missing or would like to see included, please drop me a message.
Unfortunately all the old forum content was lost in the move, so it's a blank canvas awaiting your new posts.
* Look towards the right-hand sidebar > Log-in pane > Create an account click and fill it in with;
Your name
User name (ideally including your race no. if you have one)
A password of your choosing that no one can guess ;-)
E-mail address
That's it and await an activation email that should come in a shortwhile or a bit later if I'm away from my 'puter - before logging in.